So you or your mechanic have snapped off a grease zerk on your Beechcraft airframe?
PN: 1729 (AKA 3016)
https://www.motionindustries.com/products/sku/05408981
https://www.cometsupply.com/pm/ALM3016/
PN: MS15002-1 or AS15002-1-P or 1792B
https://www.gen-aircraft-hardware.com/images/pdf/greaseftgs.pdf
https://www.motionindustries.com/productDetail.jsp?sku=00280420
https://www.cometsupply.com/pm/ALM1792B/
---
Give "Zerk" a call at 800-822-4579, they can help you with some of the oddball stuff Beech used.
The Zerk fitting was invented by Alemite
Alemite On-Line Contact Form HERE
Alemite Catalog HERE (Caution 25MB Download)
1057 521 Corporate Center Drive
Suite 100
Fort Mill, SC 29715
---
Here's a troubling situation on the nose gear steering zerk
This zerk is a press in fitting and proves to be a difficult area to grease with conventional grease gun tools, so be careful, lest you snap it off and end up in this situation and have to extract the shaft from the body of this joint.
This zerk is PN 1736 and is available HERE for $0.62 each on 12/01/2023 or from Textron or Preferred Airparts or Select Airparts.
---
Having trouble getting a conventional grease gun fitting on those nose gear zerks?
Well here's a nice little $13 right angle adapter that belongs in your tool box from the folks at Amazon!
Right Angle Grease Coupling
---
Genuine Aircraft Hardware Co.
Conversion Chart for zerk MS numbers to the new AS spec numbers HERE
(Courtesy of Genuine Aircraft Hardware)
---
More Zerk Sources
---
Don't Leave Those Zerks Unprotected
Silicone Grease Zerk Covers
Will Not Lose Color or Crack With Age

Total of 36 Pieces
Your Choice: Black, Dark Blue, Royal Blue or Red

$42.50/Set of 36 Pieces
Blue Silicone units pictured above.

Click
to E-mail Guy or use N77GB@MSN.com
Gee-Bee Products
800-556-3160
---
This Lumax PN: LX-1458 rubber design below is available at Amazon.com 5 for ~$8
---
Here's a CSOB Zerk Cover Candidate (Qty 50 for $5.45)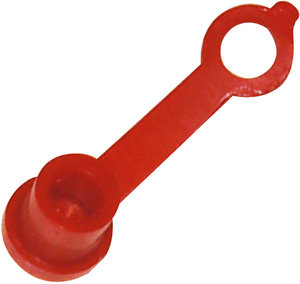 Clip the Retaining Strap if you like
---
Here's Another CSOB Zerk Cover Candidate
from F33 Bonanza Owner Shep J.
Available at Amazon
5mm May Be a Good Fit @ 50 pcs for $6.50
Shorten w/Xacto Knife to Size

---
Up Lock Roller Bolt Replacement
PN: 35-815274-1
---
Got Old Grease Stuck in Your Zerk?
The Grease Joint Rejuvenator opens clogged grease joints and fittings effortlessly in less than a minute. Loosens dried grease in joints with just a tap. Just fill the tool with mineral spirits, attach it to the clogged grease fitting and tap it with a mallet. The mineral spirits will be forced into the grease fitting under pressure to instantly dissolve dried grease. The mineral spirits will then later completely evaporate leaving no residue. Works great!
Costs about $56
---
Here is some helpful info from BT'er Curtis W. on his grease zerk research for the Beech nose gear:
Drilled bolt, P/N 35-825005, costs something around $70 and has a drive-type 1/8" Alemite 1736 fitting, which is SAE P/N K-18-SBA. I was able to incrementally drill the inside of the shank of this broken fitting until the remains came loose and I could pull what was left of the fitting from the bolt. New fitting is on order from Amazon, about $2.75. Product listing is here:
https://www.saeproducts.com/drive-type-g ... tings.html
The other part is the yoke, P/N 35-825007, which I believe also originally had a drive-type Alemite 1736. The 1/8" hole for this had wallowed out. There are some cryptic instructions on another site that recommend, in the event that the hole will no longer accept the 1736 fitting, threading and replacing this fitting with an Alemite 3016, which is a 10-32 NF thread and SAE P/N H-1032.
https://www.saeproducts.com/special-thre ... tings.html
Bushing on 35-825007 yoke must be driven partially out to clear the zerk hole (or replace with new bushing if you have it), drill the zerk hole out with a #21 drill, thread with a 10-32 NF taper tap, and stop with the tap shallow enough to leave some taper in the thread to hold the zerk. Deburr the bushing bore of the yoke, press the bushing back in, and install the zerk.
Pretty happy with the result of this so far, and anxious to see how the new 1736 fitting holds in the 35-825005 bolt, which I would rather not pay $70 for. Only practical source of a replacement 35-825007 yoke is salvage, as Beech wants an unrealistic sum of money for a NOS part.
My 35-825006 eye is good - I mistook the yoke for that part in the parts manual. I suspect it uses a 1736 fitting. I have also seen pictures with a flush-type fitting installed here.
Hope this is helpful to someone. I replaced my grease gun nozzle with a worn out one that slips off these fittings more easily - it's too much trouble and expense to deal with breaking them off.
---
Need more CSOB Aviation Hardware Sources? Go HERE