Here are a few of my favorite sources for Beechcraft salvage and NOS parts when I'm in a jam
---
(715) 420-0168
Rhinelander, Wisconsin

Supporting Site Member
---
Dodson

(785) 878-4000
---
Air Salvage of Dallas
AKA "ASOD" for those in the know! Ask for Tony Dobbs at (972) 227-1111 or Email
him.
---
Additional Salvage Sources Directory
Wentworth Aircraft in Minnesota
BAS Parts Sales (internet sales of Beegles)
Beegles Aircraft Service in Colorado
Preferred Airparts in Ohio
Biggs Aircraft in Oklahoma
Mountain Airframe in Arkansas
Discount Aircraft Salvage
Dawson Aircraft Parts & Salvage
O'Halloran Aviation in Oklahoma (580-66-zero-six-six-nine-one)
---
Arrell has lots of NOS (new old stock) Beechcraft parts and has been a friend to many Beech Listers for years. Before calling RAPID, gather your Part Numbers up and call Rick Leatherwood at (805) 666-4010 or Email
him.
---
Testimonials:
We had a customer here in Tennessee that needed a flap for a Beechcraft Baron. We contacted Select Airparts and made arrangements with them to send us a serviceable one they had in their inventory. Select did a great job getting it down to us in a timely fashion. We had it within two days from Virginia. We took a close look at the flap when it arrived, and all of us were amazed at how great the repair work was. I even called them and told them how impressed we were. It was a good experience from start to finish. I would highly recommend the work done by Preflight Repair Services for Select Airparts on any control surface repair. Select Airparts also has a professional, courteous staff. If any questions arise, they can cover them in knowledgeable detail.
Jeff Sasser, International Parts Network
We maintain several Beech Barons, and have been dealing with Select Airparts since 2003. They have been very helpful and professional in all our needs. We find their pricing competitive in today's market. Their same day service is most important in keeping our aircraft flying. We would recommend them to other Beech owners and operators.
Lewis Barrett, D & G Aero LLC
Select Airparts has been a fantastic supplier of parts for my 1959 Bonanza and my 1963 Beech 18. The Select staff is knowledgeable, helpful, and quick to assist. When they did not have the part I needed, they provided me with another supplier's contact information. We Beechcrafters are very lucky to have great parts suppliers like Select Airparts.
Steven W. Oxman
---
Safe Skies Aviation: Aircraft Salvage & Parts
513-217-6555

---
Aircraft Lighting Bulbs
Navigation Lamps Reflector Navigation
---
Randy Graham
---
Here's a "sleeper" source, finally spilled by Beech Lister and spectacular Bonanza Owner John W.
Avstat Aviation
7625 Hayvenhurst Avenue Suite 18
Van Nuys, CA 91406
Phone: (818)780-6032 or (888)287-8283
John suggests asking for Jeff or Sean. Here's his public pirep:
I rebuilt all my gear last year. I used parts acquired from Avstat although I think Performance Aero also sells such a kit. I hate to give away my very best source but I must say that you will NEVER find anyone more knowledgeable about Beech parts than the two guys that run Avstat.
During my rebuild I discovered that some items on my nose gear were non-standard. After I explained, they described what I was seeing. I agreed.
They sent all the correct parts. They have so much parts info in their head that it's just amazing. And I've called them late in the afternoon with my usual crisis and they still got it to the FedEx man before he came by ... and I had it the next day. Their prices are just slightly below RAPID or well below. If they don't have it in stock, they will know who does and can arrange to have the part sent from that source without you having to do anything but wait for the delivery man. they even drop ship parts from the RAPID facility to you if they don't have it.
You just call them and they take care of it.
Now how much better than that could it get?
---
Here's a sleeper engine parts source, ENPARTS on the Lancaster, TX airport KLNC. In business since 1987

Ask for Eileen. Paul McC. reports them to have a large selection of serviceable TCM parts.
---
O'Halloran Aviation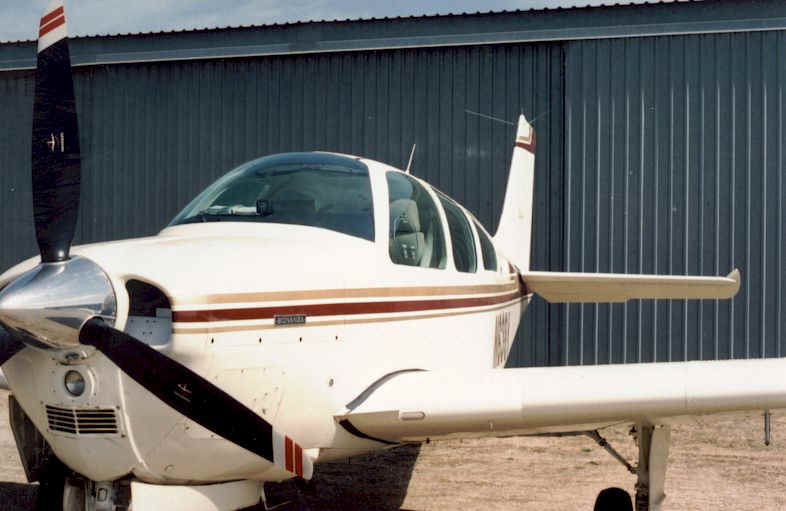 Beech Lister & Debonair Owner, Kevin O, sponsor of the Bonanzas to OSH Margarita Party and many other Beechcraft camaraderie events also traffics in many hard to find Beechcraft parts.
He can be a good place to start for leads on who in the Beechcraft parts community might have what you need. Kevin also visits many salvage auctions to secure important parts for the Beechcraft line.
From time to time Kevin has been known to have:
Landing Gear Scissor Bushings

Landing Gear Motors

Beech TAS Airspeed Indicators

and many other tough to find Beech Parts!

Long before it was fashionable to change landing gear rod ends, Kevin was advocating doing this preventative maintenance item because he was getting lots of calls about gear collapses due to rod end failures.

Rumor has it, Kevin was also a part of the inspiration behind the production of the ABS Landing Gear Inspection Handbook. For $25 it's a phenomenal guide for you and your mechanic to have on hand.

Email him with your parts inquiry.

For all Kevin does for the Beechcraft Community every day of the year, A BIG THANK YOU!
---