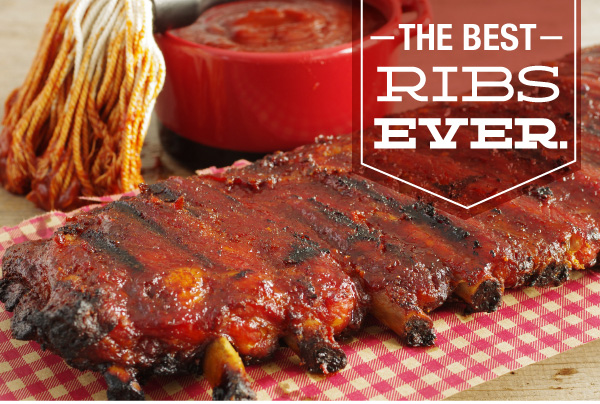 Some Good Lookin' BBQ
Over the years one of the great joys of my flying has been discovering and flying to some great BBQ joints & restaurants to "hangar fly" and build camaraderie with other Beechcraft owners.
Here's my, until now, secret list of spots that have served up some incredible aviator grub. If you have a BBQ Joint or Restaurant pirep, please
E-Mail me the details so they can be shared here.
---
Chef Mike Wedeking
Flying Mango Restaurant and Catering
Michael Wedeking and Suzanne Van Englehoven
4345 Hickman Road, Des Moines, IA 50310
www.flyingmango.com
restaurant and carry-out - 515-255-4111
During a trip to Des Moines, IA, KDSM , I accidentally stumbled upon this awesome BBQ Joint when the guy I was traveling with was playing with his new iPhone capabilities. The piped in Blues Music is excellent and if you're lucky there might be a live event going on that night. Check HERE
At the time, Chef Mike said he was in the market for a Bonanza. Double WOW! I hope he has found one and decides to come to B2OSH and BEER2OSH with us. Maybe we could even talk him into serving up some of his awesome BBQ for us?
Mike mentioned that he would come pick you up from the airport if you called. Be warned - they are closed on Mondays, they serve Shiner Bock Beer (that really pushed me over the edge....LOL), the full rack just has to be experienced and the cornbread is to die for!
---
A bunch of Beech Owners held a sub $3/gallon 100LL Celebration at KXBP on November 8th, 2008. A great meal was had at Pronto's Italian Restaurant down the road.
47 Us-380
Bridgeport, TX 76426
The owner even came to pick us all up. Give them a call (940-683-3733) if the courtesy car is not there. The food was great, the portions were great and the cost is CSOB approved.
---
813-788-6500
5740 7th Street, Zephyrhills, FL 33610
Sunday 8 a.m. - 3 p.m. / Monday CLOSED
Tuesday - Thursday 7 a.m.–8 p.m.
Friday & Saturday 7 a.m.–9 p.m.
Formerly known as Mike's BBQ Joint, the Smokehouse BBQ & Grill is now located in Zephyrhills, FL. Fly into KZPH and see if you can get a courtesy car. By the way, KZPH usually has a very attractive self-serve avgas price for the Tampa area.
---
Here's another one of my secret mouth watering BBQ Joints. First Choice BBQ! They are also just down the road from my old stomping grounds at KVDF in Tampa, FL. Get the crew car from Leading Edge and chow down on a pulled pork or beef sandwich. You won't be disappointed!
10113 Adamo Drive (SR 60)
Tampa, FL 33619
Phone: (813) 621-7434

They also have a location in KPCM Plant City, FL
712 South Collins Street
Plant City, FL 33563
Phone: (813) 752-7788
---
520 South IH-35 E
Denton, TX 76205
Phone:

(940) 484-7839
Just down from CSOB Headquarters on I-35E in KDTO Denton, TX is Rudy's, a great Texas BBQ Joint. Your non-flying buddies can enjoy a nice selection of ice cold beers there too!
My personal favorite is the brisket sandwich with a slathering of Rudy's sauce. Those with a need for an exceptionally mild sauce can put the "Sissy Sauce" on it! LOL
---
Right on the field inside the main building at KADM Ardmore, OK is the Blue Pig Restaurant. Great taste and portions rule here. A number of Texas and Oklahoma area Beech Listers make this a Fly-In destination from time-to-time. Last I checked they are closed on Sunday.
620 General Drive #6
Ardmore Airpark
580-389-5555
---
246 W. Willow St.
Syracuse, NY 13202
(315) 476-4937
Kitchen Hours: M-Thurs to Midnight / Fr & Sat to 1AM / Sun to 10PM
Another one of my all-time favorite BBQ Joints is Dinosaur BBQ in KSYR, Syracuse, NY (where I learned to fly). This is a classic honky-tonk biker style place with great live blues bands playing Monday thru Saturday nights. Despite it's "rough" looking clientele, it's not a rowdy place and folks from the theatre or symphony are known to stop in for dinner before and after performances.
The ribs are awesome! I dare you to order the full rack! And for your companions NOT FLYING, try the Platinum Margaritas!
They also have a location in KROC, Rochester, NY HERE. The Syracuse location is the first location and is my favorite.
Fly into KSYR and stay with my friends at Landmark Aviation and see if they'll let you have the crew car to go into downtown.
---
If you ever fly into Lexington, NC, the Lexington BBQ is highly recommended by Beech owner Al C.
100 Smokehouse Lane
Lexington, NC 27295
(336) 249-9814
Hours
Monday – Saturday 10 a.m. – 9:30 p.m. (closed on Sundays)
Winter Hours: January – March close at 9:00 p.m.
---
If you ever fly into The St. Simons Island area near Jacksonville, FL, Southern Soul Barbeque gets great Beech owner pireps for their excellent BBQ.
Fly directly into KSSI and it's just a short ride over. Here is a video clip from the DDD show that featured Southern Soul.
2020 Demere Rd
St. Simons Island, GA
(912) 638-SOUL (7685)
Hours
Monday – Saturday 11 a.m. – 9:00 p.m.
Sunday 11 a.m. – 6:00 p.m.
---
Right near the field at KSEP Stephenville, TX is the Hard 8 Restaurant. I've experienced fall-off-the-bone meats that you select right off the grille before you go in to sit down.
1091 Glen Rose Rd
Stephenville, TX 76401
(254) 968-5552

A number of Texas and Oklahoma area Beech Listers make this one of their Fly-In destinations from time-to-time. The Hard 8 stages a couple of golf carts at the airport with directions on the clipboard in the cart. If you have a formation crew of folks, just call them and they will dispatch the "King Ranch" truck to pick you up and bring you back to the airport.
---
Tues. - Thurs. 11:00am - 9:00pm
Fri. 11:00am - 10:00pm
Sat. 7:00am - 10:00pm
Sun. 7:00am - 5:00pm
24814 STANOLIND RD. TOMBALL, TEXAS 77375
(281)255-MELS (6357)
If you are ever in the Houston area, you owe it to yourself to experience Mel's Country Cafe's down home Texas chow at CSOB family prices and portions that will knock your socks off.
Don't even think about getting the Mega Mel burger...LOL You'll be over gross weight for sure on your trip back home! PS: Note the Diet Coke to make up for the 1.5 pounds of burger and 1.0 pound of bacon.
Fly into KDWH, Hooks Airport and get the crew car and ask the locals for directions to Mel's Country Cafe. You won't be disappointed. I can personally vouch for the catfish and hushpuppies.
Or, the locals also tell me that the restaurant in the FBO is pretty good too, if you are pressed for time and can't go into town.
---
If you ever fly into Carthage, NC (BQ1) the Pik N Pig BBQ is highly recommended by Beech owner Alan G. Alan reports an open porch on the runway side adjacent to the windsock. The 2500' asphalt runway should present no problem for the skilled short-field Bonanza driver, Baron owners should plan to bring their short-field "A-Game" to this party.
Park on the grass near the P-40.
CASH ONLY
194 Gilliam McConnell Rd
Carthage, NC 28327
(910) 947-7591
Hours
Tuesday – Saturday: 11 a.m. – 8:00 p.m.
Sunday: 11 a.m. – 3:00 p.m.
CLOSED MONDAYS
---
Restaurant Hours -- Open 7 Days a Week!
Toll-free Phone: 888.632.8225
Steve D., Bonanza owner and BBQ aficionado says that Black's in Lockhart, TX 50R is about the best he's ever had. The fuel price, however, seems to leave quite a bit to be desired, as Texas fuel prices go.
---
505 W. Dallas, Llano, Texas 78643
For "Restaurant Info Only" call: 325-247-5713
THE HOTTEST JALAPENO ON THE RUNWAY!
EARLY BIRD SPECIAL

25% OFF ENTIRE BILL

MONDAY-THURSDAY

4:30pm-6pm

Must present coupon. Not valid with other offers. Coupon valid for up to $12.50 discount.



2213 N Waverly St # 3
Ponca City, OK 74601
(580) 762-5507
Hours of Operation:
Monday–Friday 11:00 a.m.–2:00 p.m.
Monday–Thursday 4:30 p.m.–8:00 p.m.
Friday 4:30 p.m.–9:00 p.m.
Saturday 11:00 a.m.–9:00 p.m.

Beech Lister Steven D. reports KPNC Ponca City, OK has a really good Mexican restaurant (for Oklahoma.) Enrique's Food is pretty standard TEX-MEX. No Nuevo style stuff. The Chips and salsa are good enough that most people get an extra order to take home.
As reported by SW Aviator: Enrique's opens Monday through Saturday at 11:00 am (there is a Pancake Breakfast Fly-in on the first Saturday of each month, 6:30 - 10:30). Weekday hours are 11 am to 2 pm for lunch and 4:30 to 8:00 pm for dinner (9:00 pm on Friday nights). On Saturdays, Enrique's has to stay open from 11:00 am to 9:00 pm to keep die Lunchwaffe fed.
Chris S. adds: "Excellent home-made type Mexican. Just about the best tamales I've ever had! Chips and guacamole are made when you order and are outstanding. If the weather is nice, the "first Saturday" fly-in breakfast is generally very well attended. Not unusual to see well over 100 airplanes, so keep your eyes open when approaching the pattern - it gets *busy*!"
Regarding the fly-in breakfast. It is standard American fare. Except they cook the sausage on a BBQ grille so it is smoked. Keep your head on a swivel, there are planes coming in who don't have or don't use a radio. It can be quite busy, too bad but pay attention.
You park on the ramp and walk about 100 ft to their door.
---
2305 E. Malone
Sikeston, MO 63801
Here is a pirep from Andy H. on his experience at Lambert's Cafe:
Though not a "BBQ" restaurant, it is great home cooking that includes pulled pork sandwich, BBQ ribs, and BBQ pork steaks. And it is just a fun place to be for a family dinner where you get to practice catching warm rolls "thrown" in your direction.
At the Sikeston, MO location they will send the Lambert's Van to pick you up at KSIK Sikeston Memorial Municipal Airport and whisk you to your seat in the restaurant, 99% of the time bypassing the waiting line. And they have been known to provide the PIC some memorabilia from the restaurant.
They also have restaurants located in Ozark, MO (near 2K2 Airpark South Airport) and Foley, AL (near 5R4 Foley Municipal). I have not visited these sites but I am sure they are just as good.
---
3001 Aviation Way
Brenham, TX 77833
979-836-5462

Beech Lister and early Bonanza Owner, Tim R., reports the airport at Brenham, TX (11R) has a really cool 50's themed restaurant right on the field in the FBO terminal.
The girls are cute in wide skirts with crinoline petticoats and the food is great and reasonably priced. Not to mention that Brenham is the HQ and main factory for Blue Bell ice cream so their shakes are really good!
It's reported that the owner of the FBO is a Baron Owner........very good taste in airplanes <grins>!
---
Tailwind Cafe
1200 SW 60th Ave
Ocala, FL 34474

The Tailwind Cafe is right on the Ocala Airport KOCF and Beech Lister Skip W., reports an awesome burger experience there. Airnav pireps even indicate the place is a Wi Fi hot spot too!
---
Fredericksburg Airport Hangar Hotel & Diner
155 Airport Road
Fredericksburg, TX 78624
837-997-9990
Beech Lister John A., reports a great experience at T82 in Fredericksburg, TX.
Good food, great atmosphere, especially at the "Officer's Club" over in the hotel. He thinks the milkshakes here are better than the ones at Brenham. You be the judge!
---
508 Dixieway North
South Bend, IN 46635
(574) 247-0810
Open daily from 6am - Close.
Call for closing hours.
If you're in South Bend, IN KSBN and it's breakfast time, you've got to get the crew car and go to American Pancake House. Order the Baked Apple Pancake. I've never had a pancake this good anywhere!
They bake it up special and it's worth the wait. Map it HERE
---
Famous Dave's - Appleton, WI
1170 Westhill Blvd.
Appleton, WI 54914
(920) 991-9700
If you're this far north I hope it's not winter time! Famous Dave's Joint is only about 3 miles from KATW in Appleton, WI. Just get the crew car from Platinum or Uber and chow down. The ribs are great as is the chopped pork. Slather it up with the Texas Pit BBQ sauce and you'll be feelin' the heat. Don't even think about trying the Devil's Spit sauce unless you are ready to go "nuclear"......
---
Another incredible BBQ Joint I've discovered in Green Bay, WI, KGRB, is Bates City BBQ. Their ribs are outstanding and they make their fries up fresh from REAL potatoes right there on site.
Monday - Thursday 10:30am - 8pm
Friday & Saturday 10:30am - 9pm
Sunday 11am - 6pm
920-882-2959
You and a buddy with hearty appetites can BOTH eat off the $11 Rib Slab and a huge basket of fries. This whole deal comes to about $15! Good food, great portions and a CSOB price. Check out the menu HERE and a Map HERE
---
See Corky's Menu HERE
Brad H., an experienced "big iron" flyer by day and Beechcraft Owner in his spare time swears on a stack of Jeppesens that none of his comrades will do Corky's enroute......something about the "bleed air" off the turbine being too hot <vbg>
---
Here's a Beechcraft advertisement circa 1960's for the Beaumont Hotel Bed & Breakfast in Beaumont, KS at SN07. This ad was the inspiration for my B55's paint scheme.

11651 Southeast Main • Beaumont, Kansas 67012
620-843-2422
Beech Lister Ken R., suggests calling 620-843-2422 in advance to check the grass runway conditions. You taxi up the street and park across the road from the hotel. The restaurant closes in the winter, but will reopen on March 1st. Definitely a great place to eat, but recognize that you have a 2,400' grass runway with trees on one end.
They seemed to have gotten an A55 or B55 Baron into that 2,400' strip once..........LOL!
---
Harris Ranch Inn & Restaurant
24505 West Dorris Avenue
Coalinga, CA. 93210
(800) 942-2333
Reported by Beech Lister Pat B. to be an excellent fly-in destination for lodging and food is Harris Ranch. A private 2,800' paved runway awaits you at 3O8.
---
725 Row River Road, Cottage Grove, OR 97424, USA. Toll Free (800) 966-6490
Tel (541) 942-2491 Fax (541) 942-2386 E-mail Info@VillageGreenResortandGardens.Com
Recommended by Beech Lister Dave VH. as the nicest restaurant in Cottage Grove, OR. Take the perpendicular taxiway at 61S to the end and it's across the street.
Sorry guys, no finger lickin' ribs at this place, but it does look like a great place to take the Mrs., significant other or girlfriend for an impressive meal.
---
53758 West Lane Rd.
Scappoose, OR 97056
<![if !supportEmptyParas]> <![endif]>
Ph. (503)543-0282
Fax (503)396-5152
Another one recommended by Dave VH. is the Hawaiian Island Cafe in Scappoose, OR KSPB. They serve Hawaiian food (Gee who knew! <vbg>) and they offer a FREE Pilot Shuttle from the airport. Just call ahead.
---
Albany, OR
541-928-8866
That Dave sure gets around there in Oregon, but then again, he's got a Beechcraft! Here's another of his secret spots for huge portions and great proximity to the Albany, OR Airport S12
---
La Posada
303 E. 2nd Street (Route 66)
Winslow, AZ 86047
928.289.4366 • 928.289.3873
Here's a place recommended by Bob S. of Sedona, AZ near KINW Winslow, AZ, La Posada Hotel & Restaurant. Bob reports that there's a crew car at KINW to get you over there.
WOW, this place definitely doesn't look like a CSOB greasy spoon! <vbg> But seriously, this definitely looks like a take the significant other, date or spouse place for a fine dining experience.
La Posada Hotel, the "last great railroad hotel," offers a unique cultural experience for Southwest travelers. Built in 1929 for the Santa Fe Railway, La Posada is truly one of America's treasures.
La Posada's story weaves together two extraordinary visions. It begins with Mary Elizabeth Jane Colter and Fred Harvey, who hired Colter to design the hotel. It embodied her vision, from its architecture down to its finely crafted details. But La Posada closed in 1957; for the next 40 years, its future remained tenuous.
Enter Allan Affeldt and his wife Tina Mion. Affeldt heard about the hotel and purchased it in 1997 after much negotiation, bringing with him a strong vision and commitment for returning La Posada to Colter's original concept. Restoration started immediately and continues today, thanks to Affeldt's efforts and the support of local preservationists, hotel guests, and a talented team of artisans and craftsmen.
---
Nancy's Airport Cafe
353 County Road G
Willows, CA 95988
(530) 934-7211
Beech Lister Greg G. reports this to be a bona fide 24/7 "fly-in truck stop" at KWLW in Willows, CA on I-5 north of Sacramento and south of Redding. It's Greg's favorite $100 Hamburger joint and you can park your airplane as close to the building as the cars and trucks do and pick up a few things at the Wal-Mart across the street!
This place looks like it would make any CSOB Aviator comfortable!
---
Another of Greg G.'s favorites is Bob's Chili & Chow Hall in Corona, CA KAJO Have a great breakfast or lunch, buy some of the cheapest 100LL in SoCal while you wait for the car from Aircraft Spruce to take you browsing.
1903 Aviation Dr.
Corona, CA 92880
(909) 734-2570
Open 7 Days (6AM - 5PM)
---
Greg G. also gives a thumbs up to Peter Chu's Skyroom in Redding, CA KRDD for a change of pace to Chinese Food and great picture window views.
(530) 222-1364
---